How to Receive Money from Family & Friends in Abroad.
Receiving money in USD from abroad to your Naira account works just like a regular bank account when you use fnfSwap for the service.
As a growing freelance finance website, fnfSwap stands in as the bride 👰 (receiver) waiting for the groom 🤵 (sender) to send in funds from abroad in hard currency for a Naira swap.
All they need to do is share the required account details of the currency you want to be paid to the person or business who wants to pay you. 
At the moment, fnfSwap can only receive USD, GBP, and Digital Currencies from abroad. See details below. 
Foreign Bank account for USD and GBP transactions
Verified Skrill Account for USD, EUR and GBP transactions
PayPal Account for USD and GBP Transactions
Account to receive Cryptocurrencies (on demand).
PayPal Transaction NOTE – we only receive direct payments such as freelance/blogging platforms like Fiverr, Upwork, Bluehost, Partnerize, and other related DIRECT partners. Not from an individual.
Kindly note that fnfSwap cannot receive money in any currency other than the ones listed.
How Can Someone Receive Money from Abroad in Nigeria?
Here's how to receive money from friends and family or business partners using fnfSwap Freelance services
1. Make a Request
The first step is to contact the fnfSwap Team and make a request for the funds you want to receive.
This request will give rise to the verification process of the source, the types of funds you want to receive, and all the terms of the transaction.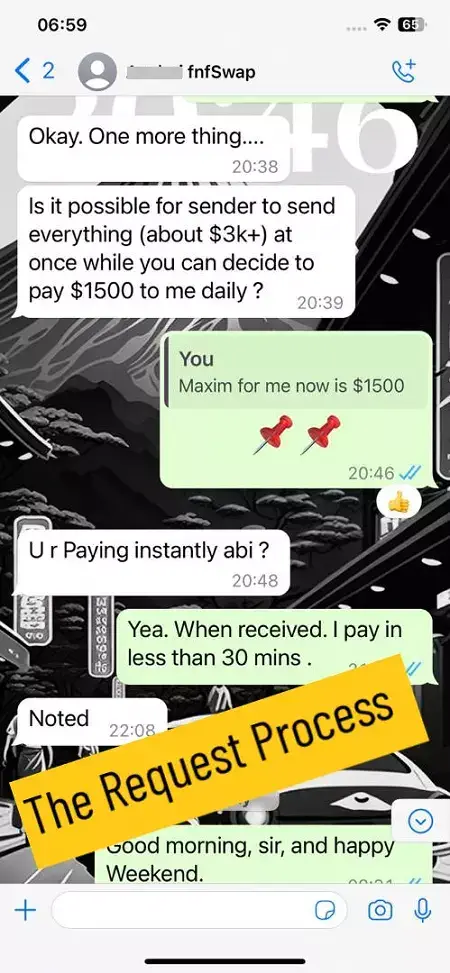 When terms are agreed upon, move to step 2.
2. Forward the Payment Details 
The next step is to send the fnfSwap account details (accordingly) to the source of funds (Sender).
Accordingly means – you will receive the account details – PayPal details if it's a PayPal transaction. The same with direct foreign bank accounts, Skrill, and cryptocurrencies. 
3. Get Transaction Proof 
When once fnfSwap receives the funds from the sender, you will get a screenshot of what – the amount – we received. That way, everything is transparent enough for you.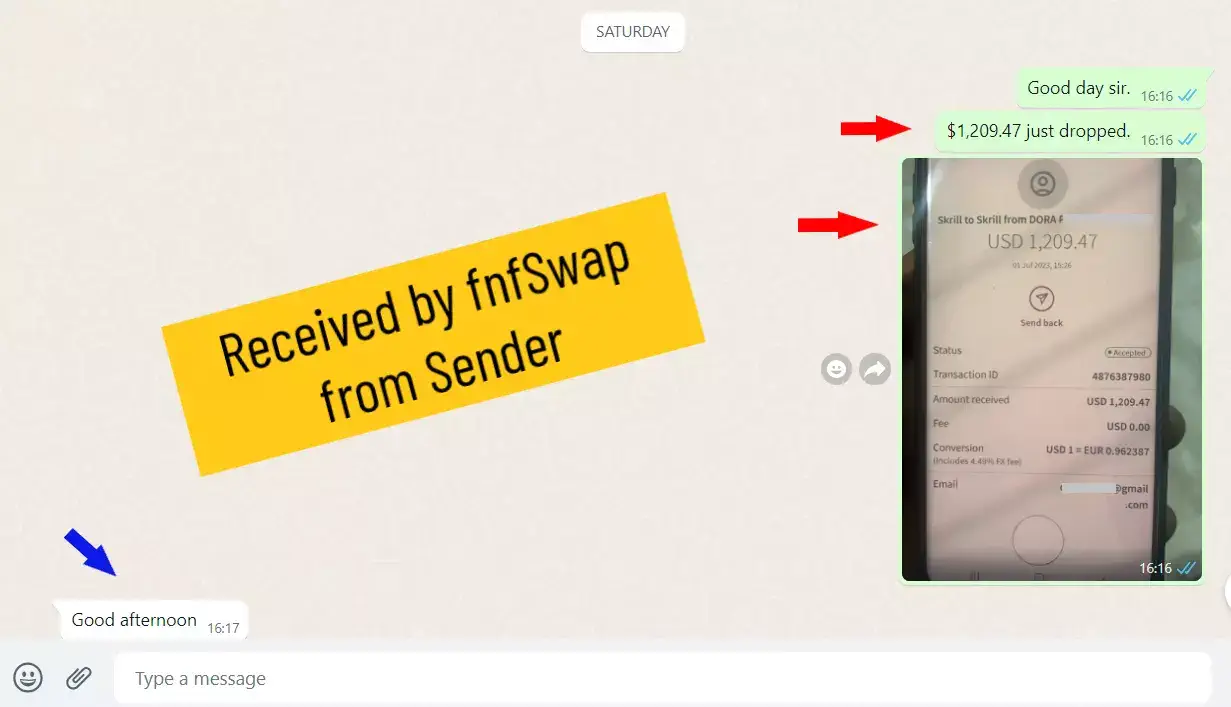 Also, we allow some time for the funds to settle in case there is a dispute. See details.
For Foreign Bank accounts Transactions – we allow 1 hour.
For Skrill Account Transactions – we allow 45 minutes
For PayPal Transactions – we allow up to 12/24 hours
For Cryptocurrencies – we allow 20 minutes.
Note #1 – in all of these, fnfSwap does not charge you any fees. You get paid what we receive based on the screenshots we give you/according to the USD-Naira exchange rate already agreed upon.
Note #2 – we strictly adhere to the timing above. Therefore, if you think it is not suitable to wait for the transactions to pass through a 100% issues-free timeline, then you can seek an alternative cause fnfSwap wants only long-term and legitimate freelance clients. 
Note #3 – for this PayPal service, we DO NOT RECEIVE funds from Individual PayPal accounts – only DIRECT PayPal accounts from companies and related partners.
Therefore,  don't make the mistake here (TRYING TO PLAY us in receiving funds from a personal gns or fnf account for you), else the situation will be addressed in the next 14 days – and can be escalated. Click here to ask questions if you don't get it.  
4. Get Naira Payment to your Bank Account
With the transaction validation completed, fnfSwap will send a Naira payment of the equivalent funds, and you will receive the payment directly into your Naira Bank account.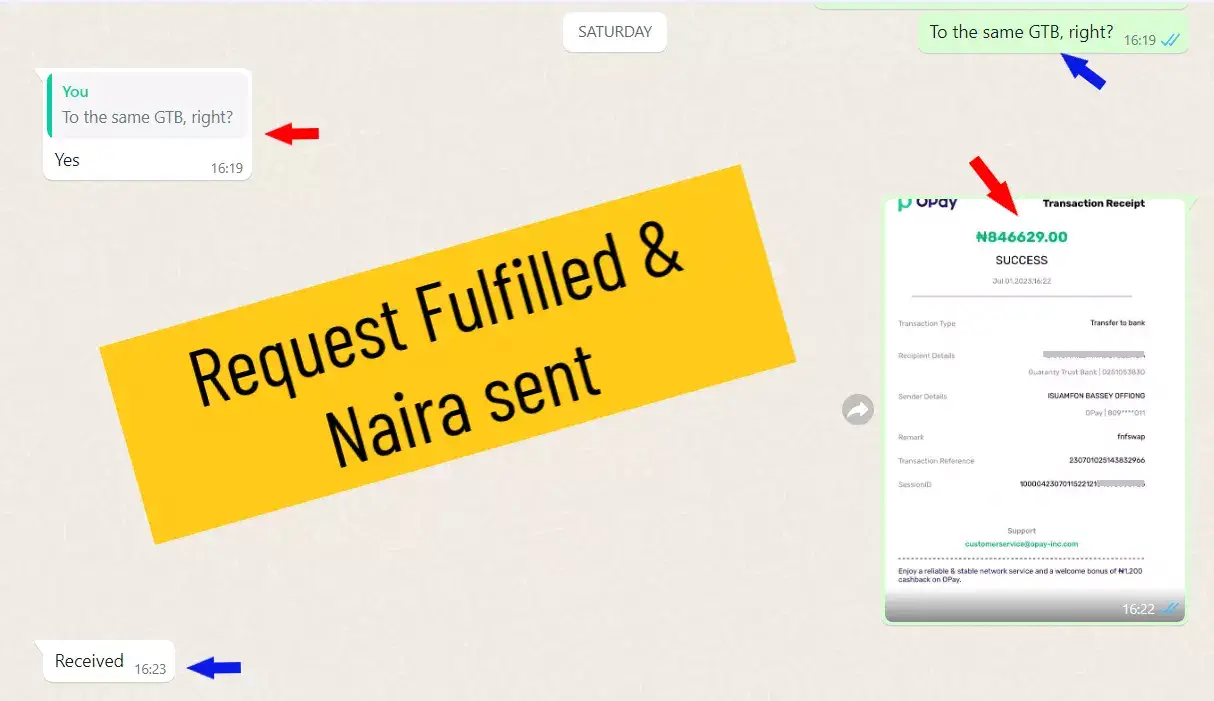 That is all about receiving funds from abroad in Nigeria.
FAQ on Receiving Money from Abroad in Nigeria
Yes, you can. With fnfSwap, the listed are the currency offerings at the moment.
fnfSwap does not charge extra fees to receive funds for you from the Abroad. Apart from the transfer charges by the transaction platforms used, fnfSwap will give you a screenshot of the final funds received, from which you will be paid accordingly.
At the moment, while $1500 is the peg, we keep it at $1,300 max per day. See below.
Skrill – $1,300 max
Foreign Bank account – $1,300
PayPal – $500
Cryptocurrencies – $10,000
Receive Funds from Abroad

Receive Funds from Abroad

Receive Funds from Abroad