The United Bank of Africa created the UBA Dollar Prepaid Card as a standalone card for everyone – both UBA and non-customers to provide faster and more international money transaction services.
The card gives the flexibility to spend what you load on it and helps manage your finance better as your private banking details are safe on the internet (since the card is not linked to a Bank account).
Being able to use the card on millions of retail outlets all over the world, and helping freelancers, digital marketers, and bloggers withdraw from PayPal are some of the main reasons the UBA Dollar prepaid card became one of the biggest international money transfer cards for online payments and shopping in Africa and Nigeria.
They now have tens of thousands of users in Africa and millions of transfers occur through the UBA Dollar Prepaid Cards (both Naira and Dollar variants).
Keep reading our UBA Dollar Prepaid Card Review to learn more about its features, fees, and ultimately how to send & withdraw money to Naira.
What is the UBA Dollar Prepaid Card?
The UBA Dollar prepaid card is a pre-funded and re-loadable Dollar card that is accepted both locally and internationally at all Visa acceptance points (ATM, POS & web). It is a stress-free, quick and easy medium for online business transactions both locally and internationally.
Pros
It is available to both UBA & non-UBA customers.
The UBA Dollar prepaid card exchange rate is higher than the Local Bank rate; you get the best exchange rate.
Both individuals and businesses can use the card.
You can move funds from PayPal to the card instantly.
You can use it for payment of online subscriptions, social media, and digital ad platforms/services.
You can spend up to $10,000 monthly with the card.
You can move funds to another UBA Dollar prepaid card user.
Cons
1.5% of transaction inflow amount from platforms like PayPal and etc.
It may not support all 3D platforms.
Here is a video guide by Isuamfon Offiong.
Is the UBA Dollar Prepaid Card Safe?
The UBA Dollar Prepaid Card is a secure international Visa card that gives you unraveled online transaction protection.
The security operations team/ Customer Fulfillment Centre (CFC) at UBA will at any time suspend, restrict or cancel your Card or refuse to issue or replace a Card for reasons relating to concerns about the security of your account or Cards, or if they suspect your account is being used in an unauthorized or fraudulent manner.
The Card agreement is governed by the Laws of the Federal Republic of Nigeria including laws pertaining to money laundering, CBN regulations, guidelines, and other applicable laws in Nigeria.
Therefore, they reserve the right to terminate this agreement immediately upon suspicion of false information or a fraudulent /criminal act is ascertained against you.
Features of the Prepaid Card
Desktop Compatibility & Mobile Application
You can use the UBA Dollar Prepaid Card both on desktop and mobile devices. The UBA mobile app which is available for free on iOS and Android devices enables the seamless usage of the card. Just like many mobile banking apps, it is intuitive and easy to use.
As a user, you can manage your card transaction using a dedicated portal known as the GtpSecureCard.
Withdraw from PayPal
Shop online
Card-to-Card transfer to users.
Pay for subscriptions and ad platforms.
UBA Dollar Prepaid Card Fees
Opening and maintaining a Card account with UBA is free, and it doesn't involve a monthly cost. However, you will be charged $3.15% (VAT Exclusive) as a Card issuance fee.
The annual card convenience fee (VAT Exclusive) is $20.
SMS alerts cost $0.01. The International ATM withdrawal fee is 0.6% of the Transaction Amount subject to a minimum of $3.5 per ATM withdrawal (VAT Exclusive).
OCT inflow (original credit transaction inflow from platforms such as PayPal, etc costs 1.5% of Transaction Inflow Amount (VAT Exclusive).
Requirements & Documents for UBA Dollar Prepaid Card
To get the UBA card, go to the bank with the following documents:
One passport photograph
ID card
Utility Bill (Nepa or Water bill)
BVN
How to get a UBA Dollar Prepaid Card
Before transferring the money from one customer to another and getting access to all the services of the Dollar prepared card, you will have to get the Card first (and set up a card account if you want).
Getting the Prepared Card in Nigeria is a straightforward process. See the steps below.
Visit any UBA Branch to get one instantly.
Request for "UBA Dollar Prepaid Card".
Fill out the application form with your documents.
Submit the form & wait for the card print/issuance.
Get the card & confirm that your name is spelled correctly.
Fund it for the activation process.
Start using it.
Note: The Prepaid Card has a dollar sign on top of it, so, observe.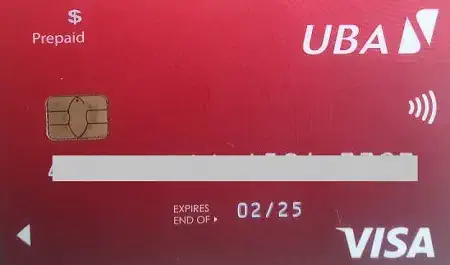 How to Activate UBA Africard Dollar Card in 4 Steps
1. Sign the Prepaid Card
Sign the reverse of the card where you have a signature panel.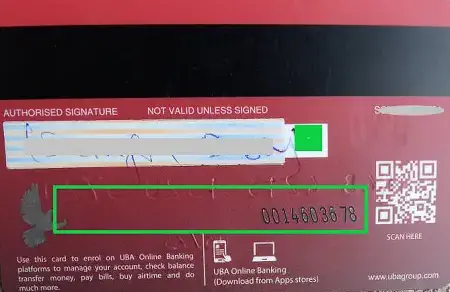 2. Detach the Prepaid Card to reveal the PIN
Gently detach the Prepared Card to reveal the PIN – attached to the A4 paper.
Note: the first PIN is your ATM 🏧 PIN. The second is your WEB PORTAL CODE – to be used online. So, the PIN for activation is the first one – which is the ATM PIN.
3. Fund the Card
(If it was a Naira card, you could fund it via the UBA mobile app, UBA internet banking, or USSD, but since it is a dollar card, you only load either it by buying Dollar funds from an external source or by moving funds from your DOM account – that is if you have one and money in the account. See the complete funding steps below (as we go on).
4. Activate the Card at an ATM point
After loading the card, activate your card by changing your default PIN on the A4 paper to your preferred PIN – at any UBA ATM point in the country.
How to Fund & Deposit Money into the UBA Africard Dollar Card
While are over 4 preferred ways to easily fund your AfriCard online and offline, to do it fast, all you need to do is exchange equivalent Naira value with a trusted merchant and get your card funded instantly without queuing at the bank.
1. Buy USD from a Merchant or Local Currency Exchangers
The best recommended method to fund your AfriCard Dollar is to use the fnfSwap which helps you fund your card cheaper than any rate in Nigeria, and better than the black-market rate.
For instance, you can't compare the funding rate of their $/₦ to Black Market or USD Virtual cards platforms like ChipperCash, PayDay, and the likes. With fnfSwap, you do it easy. See more reasons below.
The Advantages of Funding your AfriCard with fnfSwap Nigeria

You don't need to queue at the banking hall and waste precious time.
There is no form of inconvenience or whatever as with commercial banks or BDC merchants.
You get instant funding for your AfriCard.
You get an instant funding alert from the bank.
You don't have to deal with fake Aboki Dollar sellers or scammers.
You can fund your AfriCard using alternative funds like Crypto if you are not on Naira.
You can fund at early and late hours of the day –

3 am, 6 am, 3 pm, 6 pm, and 11 pm

– as far as the administrator is online.
fnfSwap operates under the parent company – "IsuaWealthyPlace Publishers" which is duly registered with the CAC – Corporate Affairs Commissions of Nigeria.
They have clients' community of over 100 members – at least 100 wouldn't be there if they never trusted us.
See below:
---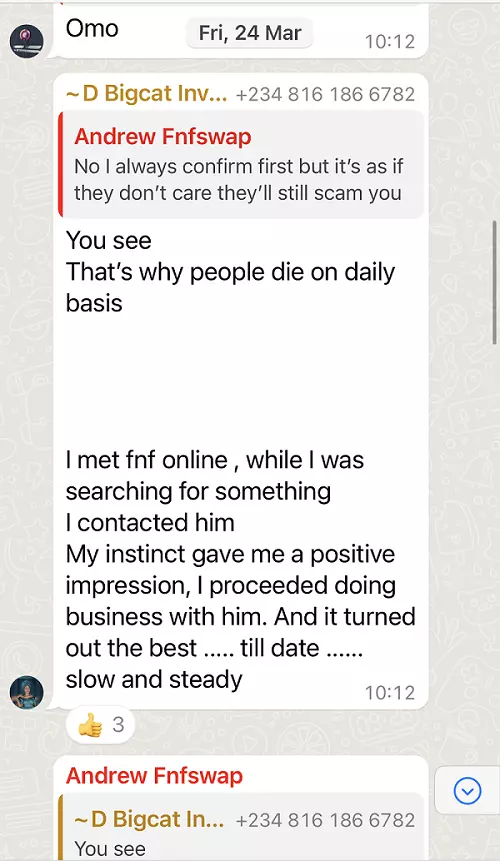 ---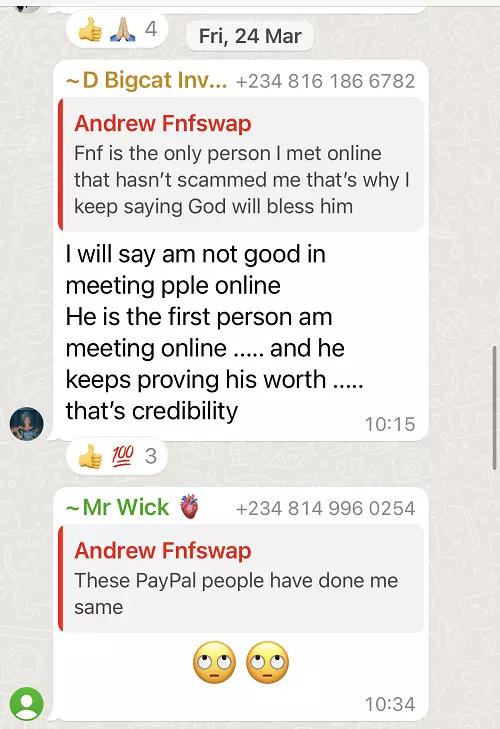 ---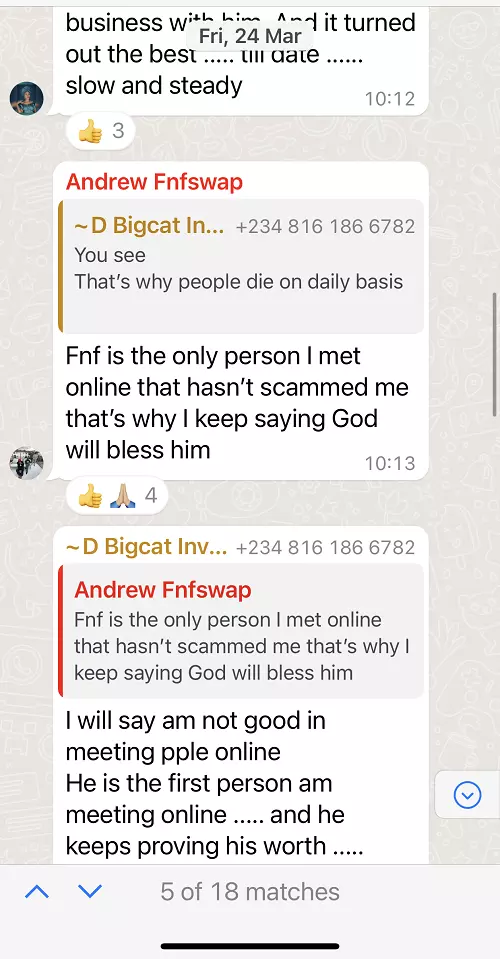 ---
---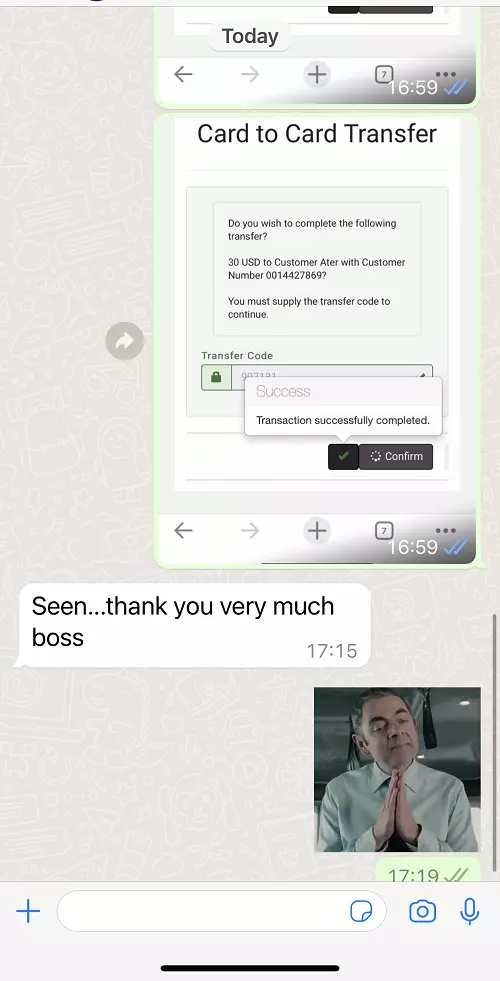 Going on,
Not to forget – you can fund your USD Afri Prepaid card with

F

NFSWAP ONLY on weekends & holidays. Who does that? Orrrrr. But fnfSwap does.
fnfSwap funding is instant – as in, from 1 minute to 15 minutes max. Anything from 16 mins means you will be compensated with free $1 for wasting your time.
On the other hand, if you still have doubts, you can purchase the funds at the black market and take it to the banking hall for manual ddeposits.
2. Drop your AfriCard Details – Client ID & Last Name
After following step 1 and 2 below, you need to drop your client ID and last name for funding. However, if you went with buying Dollars from BDC guys, then, when you get it, you need to pay your way to the bank again and fill the deposit with your details to fund it.
Here Is How to INSTANTLY Fund the AfriCard Dollar Prepaid Card With fnfSwap
Step 1. Contact the fnfSwap administrator and signify your funding order.
Note – your funding order determines the $/₦. The higher the USD funding order, the lesser the rate $/₦.
Step 2. Make Naira Payment of The Funding Equivalent
Based on your buying order, any of the fnfSwap accounts will be issued where you are required to make payments in Naira.
Step 3. Drop your client ID and last name for funding
After the bank transfer, go ahead and provide your client ID and last name for the funding process.
Client ID

– is the 10 digits on the back of your card.

Last name

– is your last as on the card. 😎
Alternative Afri Dollar Card funding process – Funding using USDT-Crypto
If you don't have Naira funds at hand but Crypto, you can still swap it for the AfriCard USD. How?
Just follow the same steps and our USDT crypto wallet will be issued to you. From there, you send the equivalent amount, and your card will be funded instantly. Here is how to get started.
A. Now, create an account on Binance or sign in to your Binance crypto wallet account.
B. Deposit USDT into your Binance Account or move to fnfSwap if already funded.

C. Drop your Africard details and get funded.
Note – if you went with buying USD from Aboki, then after getting the Dollar funds from the BDC guys, fill the deposit with your details – the account number is your client ID – found at the back of the card – that is, the 10 digits number.
3. Get a Funding Alert
With fnfSwap funding, you get instant funding alert via an email or SMS alert of a successful Prepaid Card funding.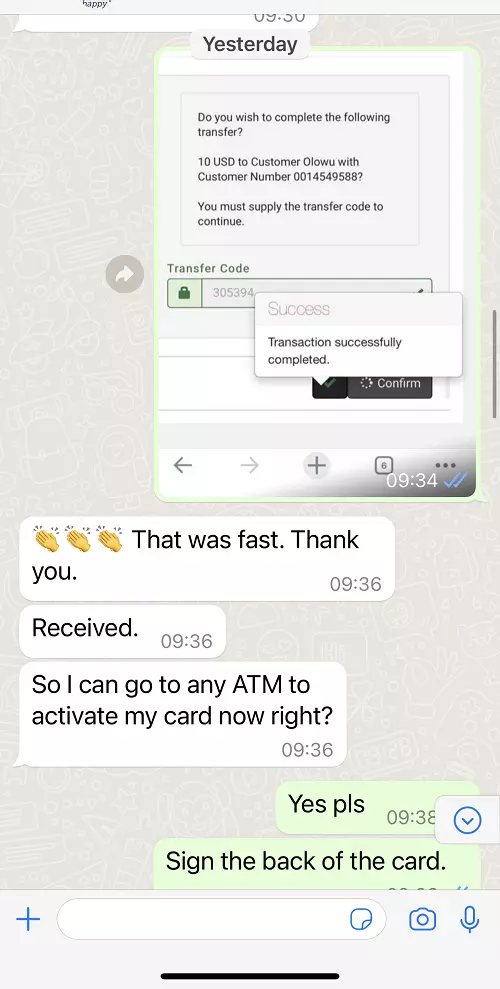 However, if you are depositing at the bank, then you can expect it when finally funded.
Note – bank alert might not be instant as compared to funding with fnfSwap.
Ready to fund your UBA AfriCard Dollar Card instantly? If yes, see below.
➽➽ Click here to contact fnfSwap | Click here to see how it works
Bookmark/Read also – How To Load UBA AfriCard Dollar Card in Nigeria, Ghana & Africa
Below is the 5 funding steps video by Isuamfon Offiong.
How to Move & Withdraw Funds from PayPal to UBA Dollar Prepaid Card
1. Make sure you've activated and loaded your card with funds.
(Note – without loading your card with funds and activating it, linking it to PayPal will get it declined).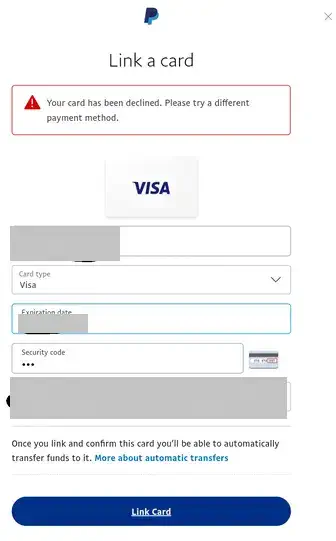 2. Link the Dollar Prepaid Card to PayPal.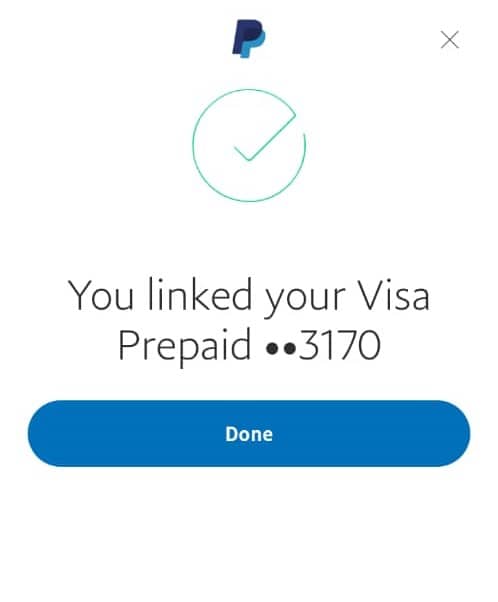 3. Go to "Transfer Money" on your PayPal account > Select move to Card.

4. Enter the amount you want to move from your PayPal Balance to the Card.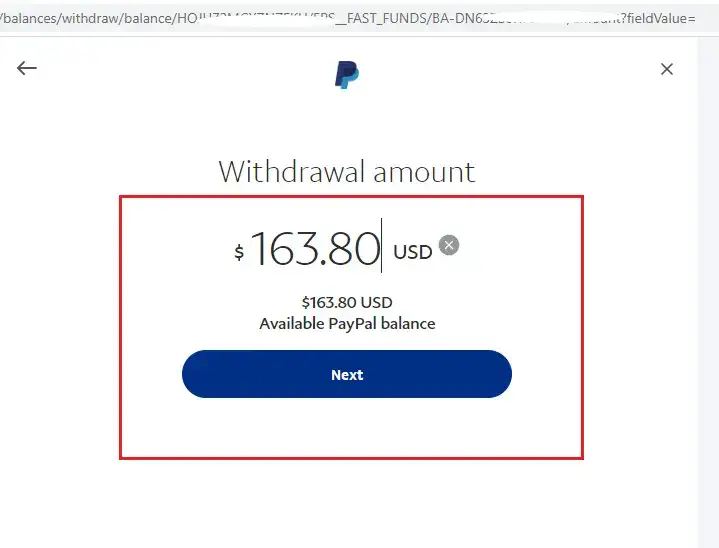 5. Click on Continue to make the transfer.
6. You will receive the money instantly and alert.

How to Send money to another UBA Dollar Prepaid Card Holder/User
Did you know you can send money to another user either by using the UBA mobile app or the web portal? Yes, you can. Let's see how to do it using the UBA Card portal method.
Log in to your get gtpsecurecard.com/UBA/Login account.
If you are new, just click on Set up New Account" and follow the prompts to get it set up.
Look at the top right (on a mobile phone) or top left if on a computer by clicking the Menu and go to "Card to Card Transfer".
Enter the details of the recipient.
Click on confirm to make the transfer
Enter the transfer code sent to your phone to finally endorse the transfer.
How to Withdraw Money from your UBA Dollar Prepaid Card
Having seen how to withdraw funds from PayPal – and we are confident the funds are right there in your Card already, here are the steps to getting the funds moved instantly without wasting time.
Here is a complete video guide on withdrawals (using Bank & Card to Card). Notwithstanding, let's summarize it below.

Can I withdraw Africard Funds at the Banking Hall?
Yes. Here are the conditions.
#1. If your funds were loaded at the bank and #2. did not come from PayPal, then go to the bank and request for funds withdrawal and you will be issued the money. But if from PayPal, then you can't withdraw over the counter.
What do to, to get Naira. Check out fnfSwap and Swap for Naira.
 Swap Prepaid Dollar Card Funds to Naira with fnfSwap

As far as you have your Dollar fund in your UBA Prepaid Card, fnfSwap will exchange it for you at the best market rate above the local or other third-party exchangers.
With fnfSwap UBA Dollar Prepaid Card funds exchange:
You DON'T waste time at the bank. You get paid instantly, and if the payment exceeds 15 minutes, you get a $1 apology fund.
Your funds are processed from $> ₦ at a go.
You DON'T need to have a Domiciliary account.
You DON'T need references and other miscellaneous.
You can swap as low as $10.
Let's now see how to withdraw/move the funds to fnfSwap for exchange.  
How to Withdraw Money from UBA Dollar Prepaid Card in Nigeria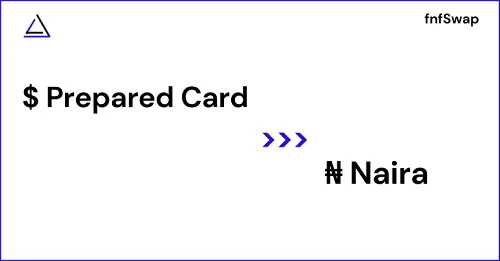 1. Log in to your Card Portal or Mobile App
To log into your card portal, go to https://www.gtpsecurecard.com/UBA/Login and enter your details.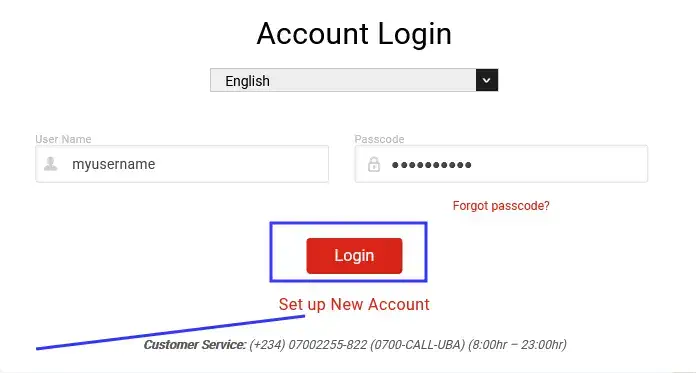 If you are a new user, click on "set up a new account to get started".
Username – this is what you set up during the registration process.
Passcode – this is the new PASSWORD you choose during the registration/setup process.
When you enter these 2 details, click on Login to log into your UBA Dollar Card account.
2. Go to Card-to-Card Transfer
Look at your Top Right (on a mobile phone) or Top Left if on a computer by clicking the Menu and go to "Card to Card Transfer".

3. Endorse the transaction.
Click on "Confirm" to proceed with the transfer operation.

4. Enter "fnfSwap Card details".
Recipient Last Name – use – OFFIONG.
Customer ID – use – 0013737018
Amount – enter the amount you wish to exchange.
Note – you can only move $300 per transaction. So, if you want to exchange $600 for instance, you will have to move the funds 2 times ($300 per time/transaction). See below.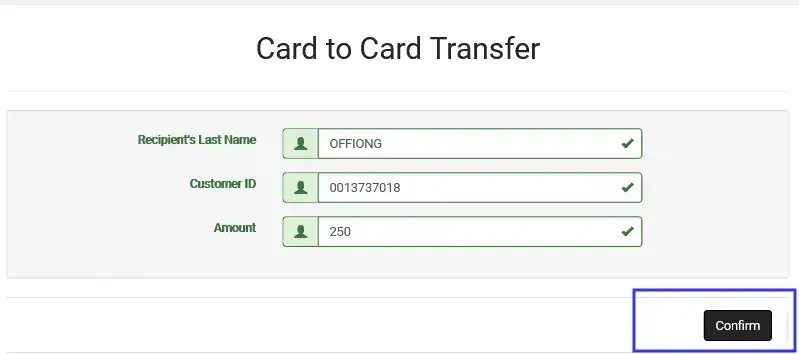 When done, click on "Confirm" to continue.  
5. Enter the Transfer code
Instantly, you will get an SMS to the phone number linked with your Prepaid Card account.
Now, go ahead and enter the "transfer code" sent to your phone to finally process the transfer.
Done – you will receive an alert that you've moved $250 to fnfSwap.

6.  Get your funds instantly in Naira at a high rate
---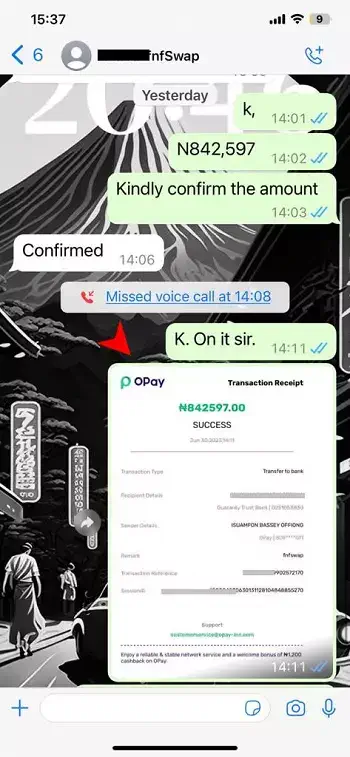 ---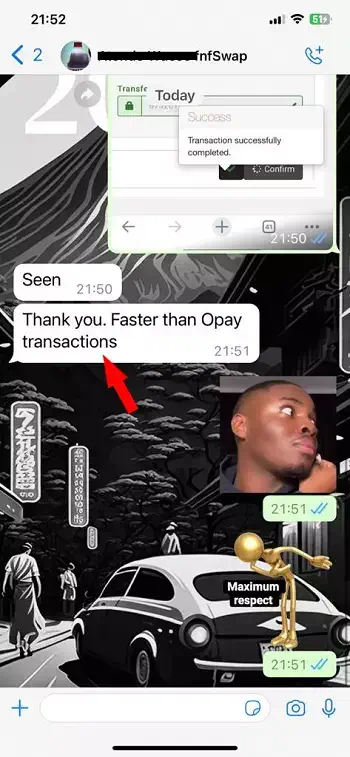 That is all about withdrawing Money from UBA Dollar Prepaid Card in Nigeria.
See how to transfer it below..
➽ Click here to exchange with fnfSwap 
➽ Click here to ask questions.
The complete withdrawal process from the UBA Prepaid Dollar Card is below. 
UBA Prepaid Card Customer Support
You can contact the customer support team at UBA Prepared Card through email, phone, and office address.
You can write to them at Head, Prepaid Card UBA House, 57 Marina, Lagos, Nigeria, or call them at Tel: 01-2808822, 08002255822, 07002255822. The phone support is available from Monday to Friday, but it's also helpful and quick. 
You also have the option to send them an email via cfc@ubagroup.com.
Conclusion
The UBA Dollar Prepaid Card is one of the best options to withdraw PayPal money, pay for digital services,  and transfer card funds from one user to another.
Luckily, it transfers money instantly from PayPal and takes the same second to reach your Dollar Card.
Besides having the flexibility of using to fund your online shopping, it transfers money in a simple and secure way.
➽ Click here to exchange with fnfSwap 
➽ Click here to ask questions.
FAQ about the UBA Prepaid Card?
What is a UBA Dollar Prepaid Card?
The UBA Dollar Prepaid Card is a pre-funded Dollar variant card. It is accepted both locally and internationally at all Visa acceptance points (ATM, POS & web) and is dependent on the type of prepaid card.
How many UBA Prepaid Cards are available?
There are three (3) popular types which are the Naira, Corporate, and Dollar variant Prepared UBA Cards. Other unknown card variants are Gift cards, Salary cards, Expense cards, and Co-branded.
How do I Activate my UBA Prepaid Cards?
You can activate your prepaid card at any UBA ATM close to you using the ATM PIN on the pin mailer that comes with the card. All you need to do is select the 'Change PIN' option on the ATM, include the default PIN, and change it to your desired PIN.
Related:
➽ Does Skrill Work in Nigeria? All About Skrill